The creators of the first Biotin Water® Hair, Skin, and Nails are excited about its upcoming refresh for its signature products. 2T Water unveiled a glimpse of the new look and additional flavor added to the line-up for Biotin Water® Hair, Skin, and Nails. Grape-Elderberry makes its way into the brands flavor profile. All flavors of Biotin Water® use real plant extract to complete the total benefit package. The berries and flowers of elderberry are packed with antioxidants and vitamins that may boost your immune system. They can help tame inflammation, lessen stress, and help protect your heart, too. Some experts recommend elderberry to help prevent and ease cold and flu symptoms. Now with 5 flavors the brand has continued to thrive during the tough covid-19 hit months by mainly focusing on its grocery store consumer and increased presence online. 2T Water has also added Zinc and Folic Acid to the refreshed Biotin Water® ingredients list to really deliver maximum benefits to hair, skin, and nails.
The brand has signed on with KEHE Distribution to expand throughout the Southeast, Midwest, Northeast and Southwest. In addition, 2T Water has gained authorization with Publix Supermarkets who will begin carrying Biotin Water® throughout Georgia, North Carolina, South Carolina, Alabama, Tennessee, and Virgina (2T Store Locator). Publix Supermarket stands as one of the largest regional grocery chains in the Southeast. This will add approximately 797 more doors to the brands growing list of outlets, with the rapid plan of growing into all 1200 plus stores with the chain by year end. Biotin Water® will hit the shelves on May 26th. The brand also has it's sights set on many other major retailers this year.
The company's new website launched this month to allow consumers a better shopping experience online while giving more purchase options and a variety of plans. Consumers can now begin to have multi-deliveries made to their homes during the month in an effort to support social distancing and no-hassle reordering.
The brand has started dedicating most of its attention and resources to online marketing and consumer engagement. Biotin Water has already created a frenzy of need among the social media world. Hair, skin, and nail care has never been more prevalent in women, not to mention men's self-care of beards have grown during the covid-19 months. "We have now reached the point where our foundation is set and the goal is to bring more people to the brand. You will see us working with influencers and increasing our online market spend to let consumers know there is a better option available. It feels good to expand into more markets while increasing our retail relationships," said VP of Operations, Rodney Wells, 2T Water.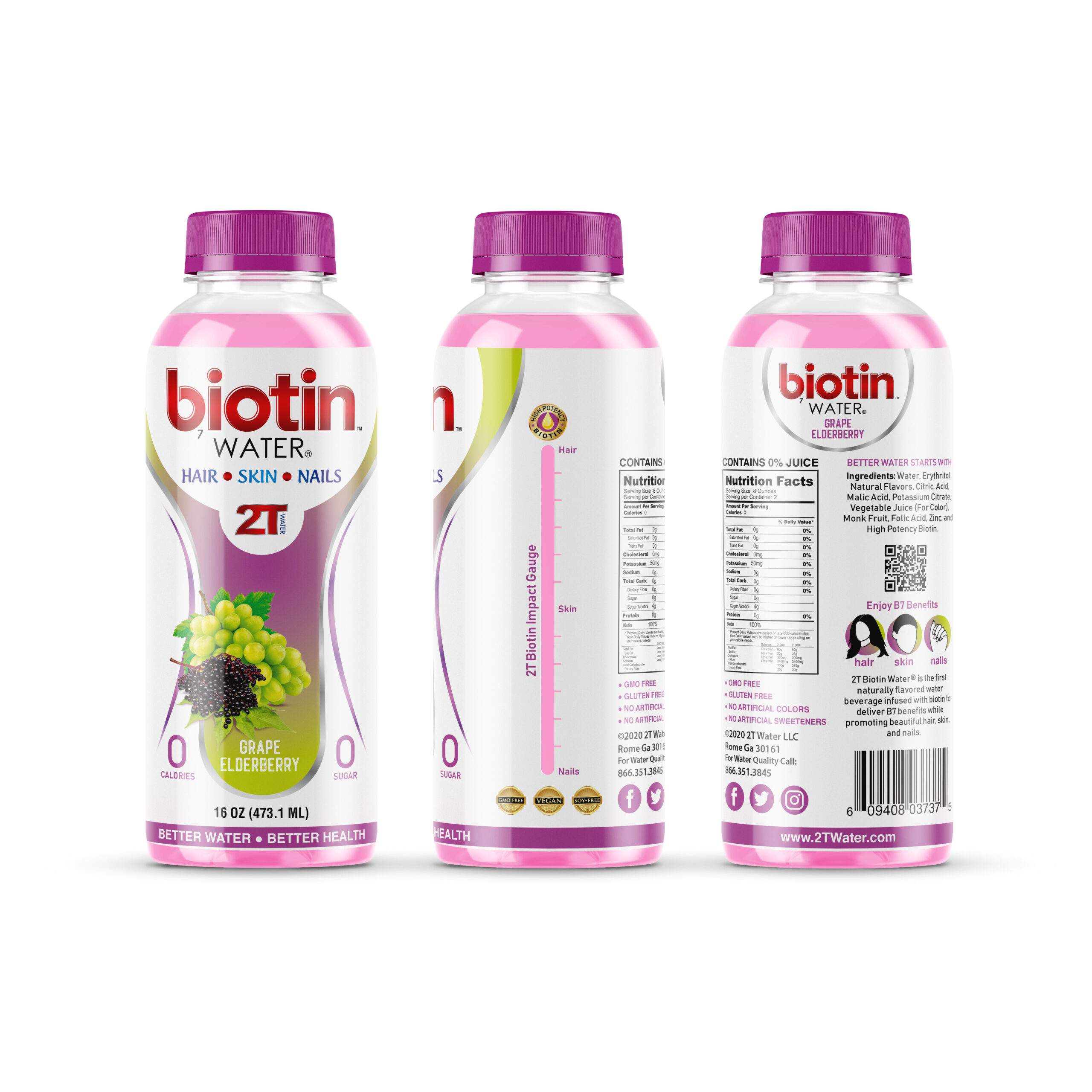 2T Water has performed very consistently in the conventional grocery category. The brand has built a solid customer base that is loyal to its products. Gross revenues have grown in double digits every year with increased distribution. Now in over 13 states the brand continues to thrive in retailers like Ingles Supermarkets, RaceTrac, Piggly Wiggly, and CVS. Now with the recent authorization in Publix Supermarkets it will surely allow its footprint to expand even more over the next few years.
2T Water is a new age beverage company committed to introducing premium beverages that are made with the finest quality of water. It's a health conscious company that focuses mainly on health beverages. For more information on Biotin Water®, please visit us at www.2TWater.com or follow @2TWater on Instagram, Facebook, and Twitter.